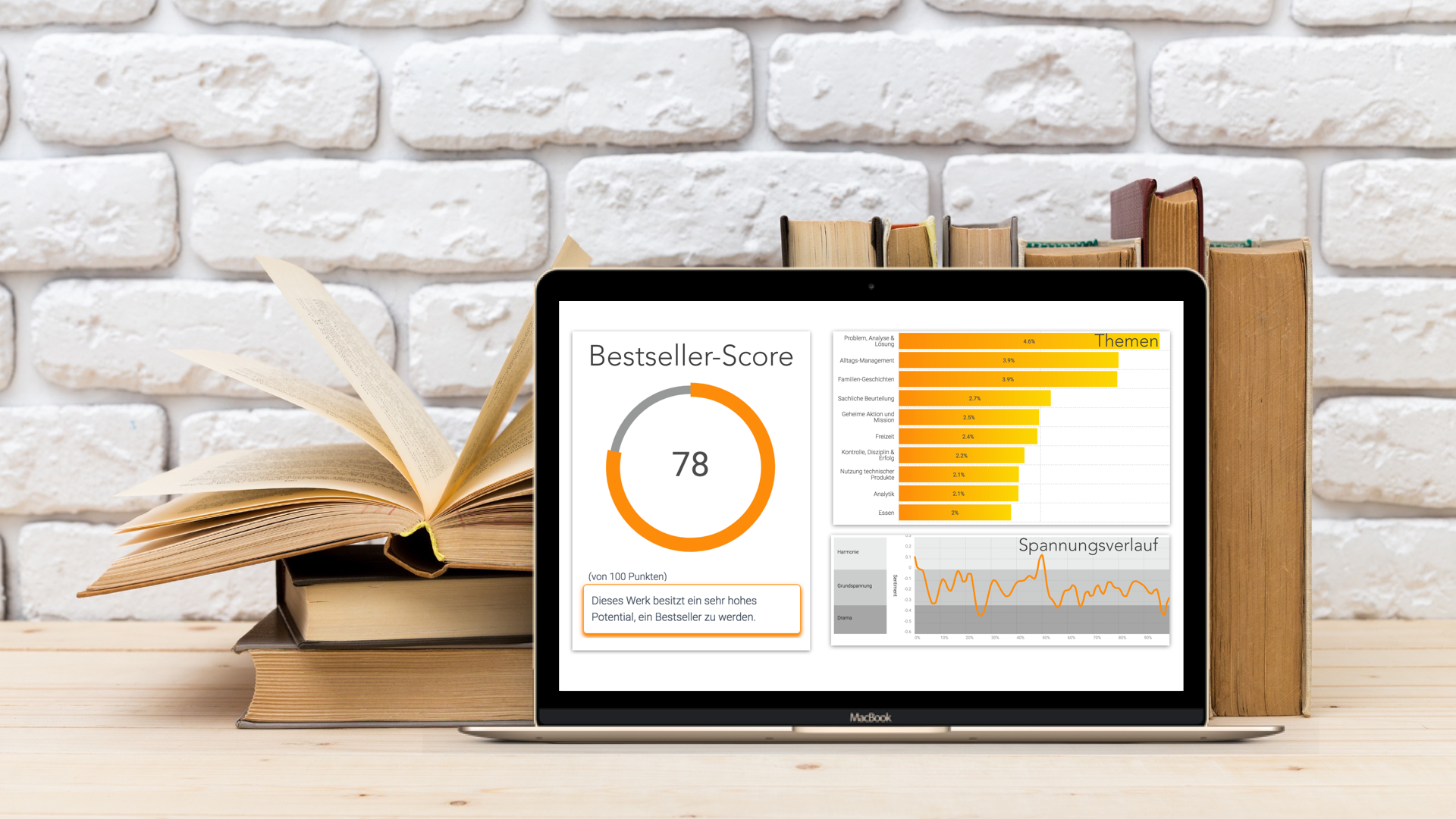 QualiFiction
Predicting bestselling books
based on AI
78% Bestseller hit rate
With a hit rate of 78%, the software recognizes bestsellers from a mass of submitted texts.
60 seconds
Within just 60 seconds, the software analyzes hundreds of pages and exposes the results.
Innovative
The approach of an objective analysis of belletristic manuscripts based on artificial intelligence is unique
The QualiFiction features
Topic analysis
Is "love" or "crime" the predominant topic of the text? QualiFiction evaluates the information that is relevant.
Sentiment analysis
Is it a gentle summer reading or a nerve-racking thriller? Does the text have a happy ending or is it dark? QualiFiction tells it at a glance.


Linguistic style
How complex or simple is the language of the text? Do readers prefer reading books written in complex style or in a simple narrative style? QualiFiction finds the right text.
Prediction
Who is the target audience for the book and does it have the potential to reach a broad audience? Or is the book more suitable for a niche audience? The AI based software evaluates it and finds the bestsellers within 60 seconds.
OUR RANGE OF MEDIA COVERAGE
The Intelligence behind
Not only has the way of writing changed and improved over time. Even the texts themselves can today be viewed with particular care and insights from previous publications are drawn for the future.
Our software has been trained on many thousands of texts and then programmed to recognize book successes. Based on Artificial Intelligence (AI), our software establishes a connection between the insights gained from existing texts and their sales and bestseller ranking. This relationship is applied to new manuscripts and a
quantitative assessment of success is determined.
The advantages


Our bestseller hit rate is already 78% - and steadily getting better.



The software has already been used by several major publishers, was trained by many of thousands of texts and has proven its success .


Who we are
PIONEERS IN AI, PUBLISHING & MEDIA

Ralf Winkler, with a Phd in Applied Maths, was Data Science Executive and AI Expert at Zalando, Germany's biggest e-commerce firm before he co-founded QualiFiction with Gesa in 2017.
Gesa Schöning is a cultural scientist and created and launched successfully 2 startups. She has great contacts to the publishing world and management and selling experience.
Get in contact with us
You want to find out more about QualiFiction? We look forward to your message or your call!